For Commercial Real Estate Sales Professionals

It's Time to Take Your Prospecting to the Next Level


by
Jim Gillespie
America's Premier Commercial Real Estate Coach sm

If you're a commercial/industrial real estate agent then you know about prospecting. You also know that by prospecting consistently you will definitely generate great new real estate business for yourself. But how effective are the prospecting methods that you're currently utilizing? Are they producing great new business for you and earning you commission dollars that you're absolutely thrilled with?
The prospecting methods that you utilize will greatly determine your level of success...or your level of failure in your real estate business. Many agents prospect without a clear, successful system of prospecting which leads them to feeling incredibly frustrated with their prospecting results. This is what led me to develop the new Special Report entitled How To Explode Your Real Estate Prospecting NOW! This report provides you with a new system of prospecting that will definitely make you much more money in your real estate career. All you need to do is read the report and follow the system.
Here's what you'll learn about prospecting more effectively in this Special Report:
A simple and extremely powerful method of follow-up to ensure that your prospects will want to work with YOU and NOT your competition when they are ready to buy, sell, and lease property
If kickstarting your prospecting results and making more money NOW is something you definitely want to do this Special Report is available for you now. It has 36 pages of great prospecting information for you and it can be downloaded immediately and read right now with your Adobe Acrobat Reader. The price of the report is only $26.00.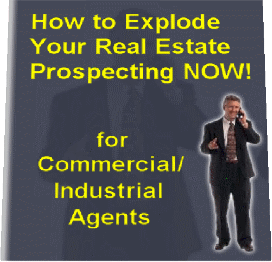 I absolutely guarantee the value and quality of this Special Report to you. Purchase the report, read it, and begin implementing the methods I've described in it. If for any reason you feel that this report is not worth at least ten times your investment in it I guarantee to refund your money to you immediately upon your request for one full year after you've already purchased the report.
Jim Gillespie